In an average week at Wayside we provide:
CHANGES OF CLOTHES
AND UNDERWEAR
INSTANCES OF CARE
COORDINATION
Our mission is creating community with no 'us and them'. We do this by
breaking down the barriers of judgement

and providing a safe place where people from all walks of life are welcome.
Our vision is 'love over hate'.
At Wayside, we live on the intersection between love and hate, between faith and no faith, between the haves and the have nots, the housed and the homeless, the sick and the well. We want to live on this intersection between love and hate in a way that helps love prevail. It is a vision that is always before us and always calling us to be more.
At Wayside, we see everyone as a person to be met, not a problem to be solved.
We are proud to have been providing unconditional love, care and support for people on and around the streets since 1964.
Our door is open 7 days a week for all of our neighbours regardless of their circumstances. Through opportunities to connect, we see that moments of transformation can and do happen, and that they move people towards health and healing.
Shop for Good at our Online Shop
Wayside Coffee Table Book
Wayside is the iconic coffee-table book from Wayside Chapel written by Pastor Emeritus Rev. Graham Long. A triumph of community and a testament to the strength and diversity of the unique characters that call Kings Cross home, Wayside is a book that reaches right into the soul of Sydney.
Wayside T-Shirt
Show your Wayside pride in our limited edition short-sleeve t-shirt, featuring our iconic logo. Available in either black or white. Made of 100% cotton, make sure to machine wash with similar colours.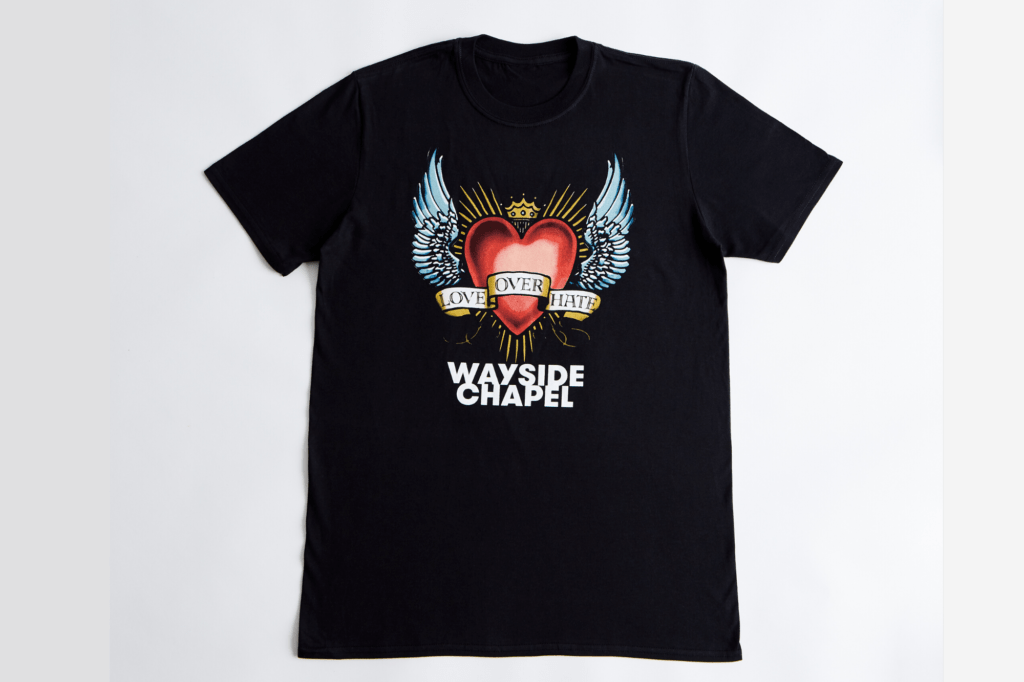 Community Services Centres
At the front desk, visitors find assistance with basic needs including showers, clothing, information and phone calls. Our support workers and care coordinators also assist with applications, referrals linking visitors to agencies for housing, health, legal and financial support. They also facilitate in-reach clinics and service hubs.

Located at Wayside Chapel Kings Cross – 29 Hughes St, Potts Point & Wayside Chapel Bondi Community Service Centre – 77 Roscoe St, Bondi Beach
Outreach
Wayside Chapel expanded its care beyond its building and onto the streets to ensure support was provided to those who are most marginalised, isolated and at risk, especially those dealing with homelessness. New street outreach teams were mobilised during the COVID-19 lockdown to deliver food and care packs to people experiencing homelessness, as well as to front doors of people who are house-bound at home, but still in of need of care and connection.

Operates daily from 2pm – 9pm in Kings Cross and Mon – Fri 2pm – 9pm in Bondi
Aboriginal Cultural Centre
The Aboriginal Cultural Centre is a new program that is designed to support our Aboriginal visitors moving from a state of trauma to reconnecting with their cultural strengths. The program is guided by the Aboriginal Healing Framework, which utilises holistic, culturally safe, strength-based approach to engage visitors and improve their wellbeing. Indigenous visitors are invited into this safe space for connection, activities and engagement in a culturally intelligent and trauma-informed way.

Located at Wayside Chapel Kings Cross – 29 Hughes St, Potts Point